Post Category Paul on 08 Feb 2014 11:43 pm
Holy cow, has it really been this long since I last posted here?  Here are a couple of items to bring the news about my writing more or less up to date: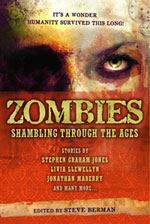 Last July my story "Good Deaths" appeared in the anthology Zombies: Shambling through the Ages.  "Good Deaths" is two parts Japanese ghost story and one part zombie tale, and it explains a real life historical event —  in the late 1500's an assassination attempt was made on the life of warlord Oda Nobunaga, and when the assassin was caught, Nobunaga ordered an extraordinarily slow and gruesome method of execution that makes perfect sense in a zombie collection.  I had a lot of fun applying the Japan trivia I've been accumulating over the years to this tale.
Prime Books recently contacted me for permission to reprint my squidpunk far-future SF story "The Muse of Empires Lost" in Space Opera, edited by Rich Horton.  It's coming out in April and it looks like it will be a great anthology.

I'm a member of  SFWA now!
This is because I just made my final qualifying professional sale, and it's to a great market that I've wanted to be involved with since I first started writing.  The story is "Subduction," and it involves plate tectonics and the Pacific Northwest and some big elemental beasts, and draws on all sorts of things I've picked up during my training to be a tour guide at the American Museum of Natural History.   The editor has asked me to keep the details quiet for the time being so they can handle the buzz properly, but it will be published this summer and I'll be able to discuss it publicly some time before then.   And they were remarkably good about getting me paid right away.